Wondering what's on the 'Smashed Tomato' Wood Fired Pizza menu – have a look below!!
Our Pizzas are always fresh and seasonal, but our 'Smashing Specials' make the most of the fantastic local produce that is mouth watering and tasty – oh yes, we love anything vibrant and something that is going to tickle your tastebuds.
The dough is incredible – light, sour dough and vegan!  Our 'Smashed Tomato' sauce is seriously good – get that right and then it's all about the toppings!
We would love to list every pizza we make, but the menu changes regularly.  Depending upon the fresh and vibrant ingredients we source, it may be Salami or Nduja, fresh fish from the Fishermen or the brightest and tastiest roasted vegetables marinated in 'Chief Smasher's' secret recipe.  Of course, there will always be 'The Smasher' available – the Cheese and Tomato made with the tastiest Mozzarella and the 'Smashed Tomato sauce' made from the finest San Manzano Tomatoes with a dash of this and a pinch of that to create our mouth-watering base.
But we always have our 'Miss Tomato's Favourite' too.  This pizza has very special memories of Miss Tomato's childhood days in South Africa.  We were the first to bring this mouth watering sensation onto the menu in the UK, let alone Cornwall.  Have you tried 'Banana' on a pizza yet?  Yes you did read correctly – you don't know what you are missing!  Do come and ask us – we promise you will love it!
Don't just take our word for it – Follow the smell, watch the drama and excitement as the flames kiss your pizza whilst the 'Chief Smasher' works his magic.
And all of this in a horse box – Neiggggghhhhhhh!!
But now we also have a converted van too – that means we are now able to get to places we couldn't get to before.  Perfect for Weddings, Parties, Business Lunches or just a good ole get together!!  We would love to be there.  Call us now to book on 07399 244036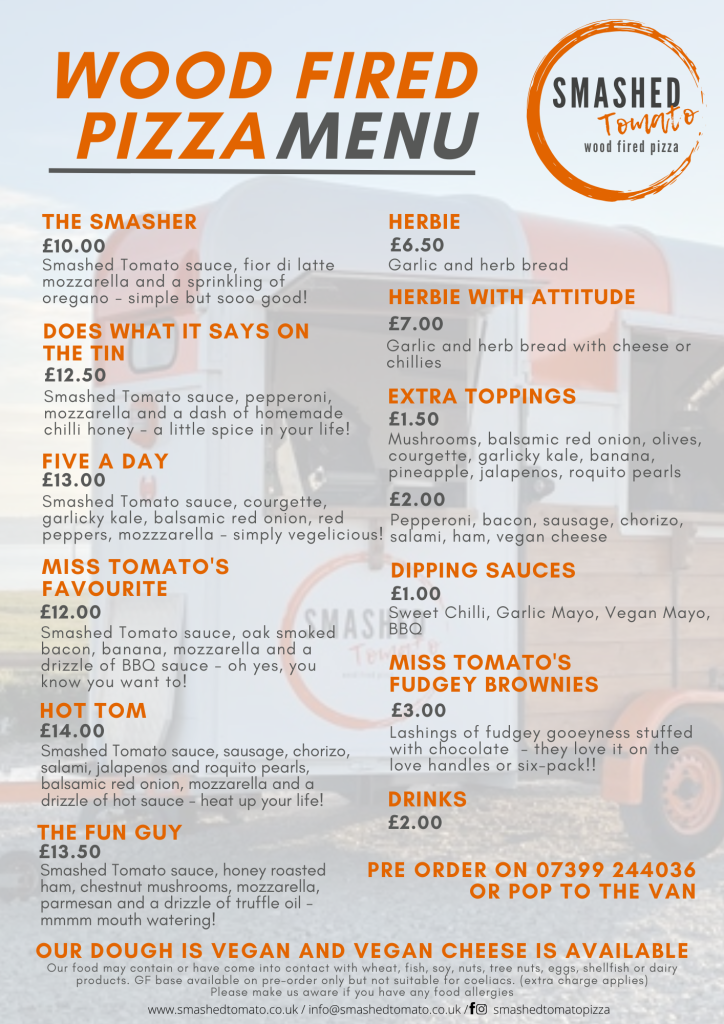 Once you have chosen - the only question is ...
'Where is the best view to sit and eat it?'
Don't forget to get social on Facebook and see our Reviews